Staying in Tob Cheang community a day or more day for exploring new experiences the full of range by community to offer with local natural landscape. The community has provided food services and facility to warm welcome all our guests.
The three main facilities we provide that help ensure a warm welcome for all our guests are: the Women's Restaurant, village Homestays, and our Visitors Center.
WOMEN'S RESTAURANT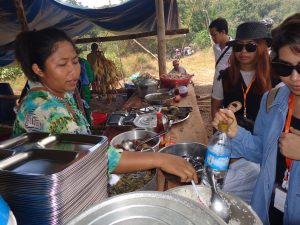 Run by a rotating roster of  women group, the Women's Restaurant is a special part of every visitor's stay in Tob Cheang. All meals are made from locally sourced ingredients and are freshly prepared using traditional cooking methods.
The restaurant serves breakfast, lunch and dinner to all guests – including those booked into one of our homestays. This insures that the money paid for meals does not go to just one family, but is spread throughout the community.
 Jungle Cook:
In Tob Cheang provides the cooker to make meals for guests in jungle when tourists stay over nights.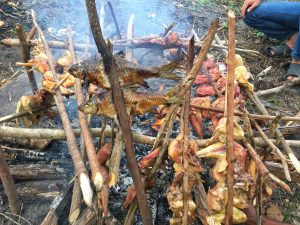 Costs:
Breakfast: $2.5 /person ($2 /person for a group upto 6 person )
Lunch: $3 /person ($3 /person for a group upto 6 person )
Dinner: $3 /person ($3 /person for a group upto 6 person )
Local Food and Fruits: