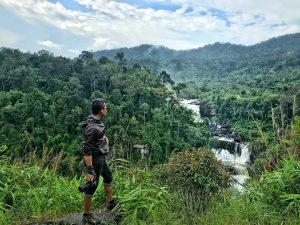 Our Community Based Eco-tourism  in Tob Cheang is located in the Southwestern part of the Cardamom Mountain range, Southeast Asia's largest tract of contiguous rain-forest.
Villagers who once roamed the forest to deplete it of its environmental heritage are now employed as guides leading trekking,mountain-biking, camping, and river boat tours through the wilderness surrounding both communities. Over of hiking trails meander through the jungle, leading to natural wonders in the rain-forest, deserted waterfalls and campsites. Villagers also operate home stays Home-stay, motorbike taxi services Transportations, ,food Foods, and local guide Local guild giving visitors further insight into rural life in Cambodia. The CBET Committee members are elected to lead the management of the project and provided ongoing training as they perform bookings, arrange itineraries, do accounting, and oversee community ranger patrols.
A trip to Tob Cheang  offers visitors an opportunity to interact with local people and explore the area's beautiful natural scenery.
Here are some of the activities that you can do at Tob Cheang. Let us know what you would like to do and we can arrange it. Or, if you like, you can Trip Itineraries, depending on how long you'd like to stay.
To arrange trip– just give us a call, let us know when you'd like to come and we'll take care of the rest!
For many, the highlight of their trip to Tob Cheang  is hiking to our Waterfalls hiking trip. There are additional waterfalls to view along the trail – each unique. There are also some great Swimming spots.
On the way, you can check out a Bird Watching walks can be arranged too.
Treks range from  4 hours to a day or longer. Full-day treks take visitors to the top of the mountain, offering Trekking site of the forest, village and surrounds. You even go on a 4 day trek Camping out overnight.
Trained local guides will accompany you, revealing the forest's history and folklore along the way. Picnic lunches are available.